ASPIRE hosts inspiring events you are sure to love! Don't miss out! Keep yourself updated on our events by browsing this page to see what we are organizing this semester.
General Meetings 2017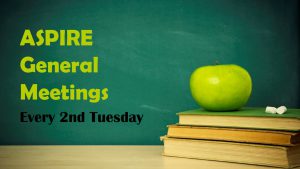 Every 2nd Tuesday, beginning February 14
6 PM- 7:30 PM
220 Alison Hall
General members will meet for event planning, professional development, and social meetings.
---
Other events in Spring 2017
Classroom Management Workshop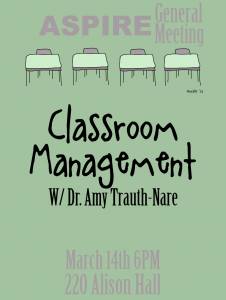 ASPIRE will be having our second general body meeting Tuesday, March 14th in Allison 220 at 6:30. At this meeting, we will have guest speaker Dr. Amy Trauth-Nare, from the Professional Development Center for Educators running a workshop on classroom management. This should be a really exciting time and I look forward to seeing you all there!
Diversity Graduate Student Panel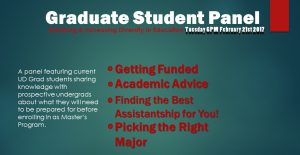 Tuesday, February 21
6PM – 7:30PM
Center for Black Culture
A panel featuring current UD graduate students sharing knowledge with prospective graduate students from under-represented communities.
Hear from current students on picking the right major, finding an assistantship, how to obtain funding and other academic advice.
Calling Party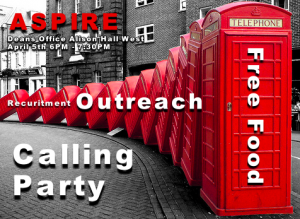 Wednesday, April 5
6 PM- 7:30 PM
106 Alison Hall West
ASPIRE members are invited to join our Calling Party as we recruit new students to increase diversity in teacher education and human service opportunities.
ASPIRE Alumni Panel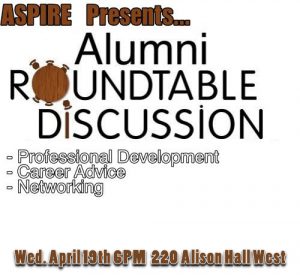 Wednesday, April 19
6PM – 7:30PM
220 Alison Hall
Have you always wanted an opportunity to network with school administrators and teachers? That opportunity has arisen! Join us for an evening of panel discussion, Q&A and mingling with professional educators. This is a great opportunity to begin forming relationships with potential mentors, colleagues and supervisors. Don't miss out!  RSVP to Jill Solomon at jilljs@udel.edu by Wednesday April 12th to secure your spot.
Final Meeting!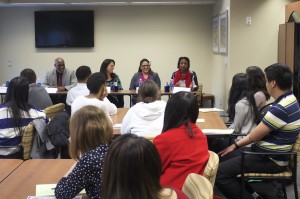 Tuesday, May 9
6PM – 7PM
220 Alison Hall
Come and hang out with ASPIRE as we recognize our senior members and celebrate the end of another successful year. Food will be provided!
Please RSVP to jilljs@udel.edu by May 10th, so we can ensure that we have enough food.