About Us
ASPIRE is a student-centered program committed to supporting you, a future educator from a diverse background, to be the most effective community server you can be!
We honor this commitment in many ways:
ASPIRE keeps you informed by hosting dynamic events focusing on issues and matters occurring in the field now.
ASPIRE hosts workshops that supply you with skills you need for your current placements.
ASPIRE supports its members by providing various academic and wellness resources available on campus.
The benefits are infinite when members utilize the resources provided by ASPIRE. We encourage you to explore our website and hope that you will become inspired to get involved!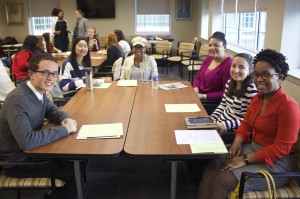 Apply to ASPIRE:  ASPIRE Application
Our Office- Our office is located in 101 Alison Hall West.  The address for Alison Hall West is 183 The Green Newark, DE 19716.  It is just a short walk from Perkins Perkins Student Center.  First, Cross the street at the crosswalk in front of Perkins Student Center.  Once you cross the crosswalk, there will be a building to your right.  This building is Alison Hall West.