Since its inception, ASPIRE has shaped many successful, ambitious and notable alumni impacting classrooms and various communities today.
Take a look at how our alumni are transforming education by browsing the headlines below.
Emmanuel Caulk, J.D.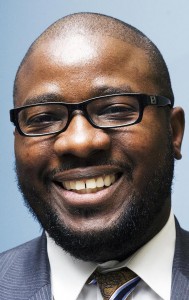 Emmanuel Caulk, J.D. '96 '02M, was one of 10 recipients of the 2014 UD Presidential Citation for Outstanding Achievement, an award given at Homecoming celebration on October 17.This award honors distinguished alumni from the last 20 years who exhibit great promise in their professional career and/or public service activities. Emmanuel has served as a Dean of Students/ Special Education Coordinator, Principal, Leadership Coach, Regional Director, Assistant Superintendent for Instructional Services and Assistant Superintendent. Currently he serves as the Superintendent for Portland Public Schools in Portland, Maine. Under his leadership, he implemented Parent and Student Roundtables where parents and students could freely express their issues and concerns regarding education and implemented a pilot of elementary math acceleration program focused on individual learners needs.
If any alumni have accomplishments they would like to share, contact us at aspire-info@udel.edu.